Level of poverty will be 42.5% in this country this year. According to the information given to APA from Ministry of Economic Development, this was 49% after the adoption of "State Program on Decreasing Poverty and Economic Development" (SPDPED) and 44% last year.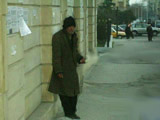 These indicators are expected to decrease next year. It was also informed from the Ministry that, the level of poverty is considered to decrease for 2 times in 2015 in the order adopted by UNO. "Permanent Human Development" as the continuation of SPDPED was informed to be adopted in the country.
By the order of the president, MED is taking measures with central Executing Powers in the direction of preparation of long-termed permanent human development strategy in Azerbaijan. SPDPED covers three years period (2003-2005).