Baku Road Police Department prepared special plan together with the Executive Authority, connected with the icy roads and frosty weather.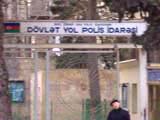 The central streets, large arterial roads, bridges and areas are under the control and the employees of the road police department were attached to these places, the department told Trend. As soon as the road patrol informed about the icy roads, the special cars will pour the roads with the sand and salty water.
All these measures have the only purpose - to prevent the road-transport accidents and to provide the intensive traffic, the department noted.
1 person died and 3 were wounded during the registered 5 road-transport accidents.