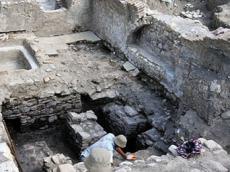 By AzerNews
Some valuable historical landfills have been discovered during archeological excavations over the last five years.
They are of great value not only for Azerbaijan's history, but also for the entire world of science.
The unique necropolis was found during archeological excavations in Yukhari Yuzbashili village of Agdam region belonging to 12-11th centuries BC.
Samples found in the archeological monument comprised of six landfills well demonstrate the key peculiarities of culture of that period. The ancient landfills can be regarded as unique in a list of archeological researches carried out over the past century.
The archeologists also found the ancient landfills without any land sign during the expedition. The geography of graves and samples found here enable the researchers to guess about existence of well developed human settlement in this area.
Necropolis, which is surrounded by famous ancient havens such as Shomulu Tepe, Chardakhli Tepe and Kulluk Tepe, belongs to second phase of development of the Khojali-Gadabay culture.
These findings provide the opportunity to know more about traditions and the way of life of that period.
The ruins of an ancient acropolis type village may be found on the indicated territory, according to archeologists.
The research would continue in the near future.
Earlier, archeological excavations were carried out near Mireshelli village of Agdam region in 2012. The jars were found and identified as the samples of necropolis.