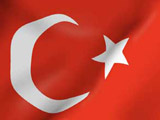 A group of Turkish media representatives held protest action concerning the wave of repression against journalists, APA reports quoting Haberturk. Media representatives assembled in Taksim square of Istanbul protesting against the arrest of nine journalists over the investigation of Ergenekon terrorist organization.
The protest action organized by Turkish Journalists Union and "Freedom to journalists" Platform continued with the march. Parliamentarian from the Republican People's Party (CHP) Mehmet Sevigen also attended the march.
Nine journalists, including reporter of the Milliyet newspaper and Star television Nedim Sener, who is known for his journalistic investigations in Turkey, were arrested on charges of being member of Ergenekon terrorist organization on March 3. So, the number of the imprisoned media representatives reached 62. All of them oppose to the government of Turkey.
/APA/