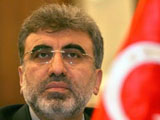 The Turkish energy minister said on Friday that a new argument was needed than the oil-indexed natural gas prices, Anadolu News Agency reported.
Turkish Energy & Natural Resources Minister Taner Yildiz, who is currently in Kazan, the Autonomous Republic of Tatarstan to attend Turkey-Russia Joint Economic Committee meeting, replied to questions of a group of Turkish reporters.
Upon a question on reduction of gas prices with Russia, Yildiz said the increase in oil prices was an important element in discussions over gas prices.
Noting that Turkey desired the oil-indexed natural gas price to leave its place to another argument, Yildiz said talks on the matter continued with Russia.
"We definitely understand the conditions the producer countries are in. However, its normal for us to expect a reduction in natural gas prices. All in all, the increase in oil prices does not depend on demand," he said.
Yildiz noted that sustainable prices were needed for a sustainable market. Commenting on the goal to increase bilateral trade volume between Turkey and Russia to $100 billion, the minister said such goal was achievable as the two countries moved towards a structure giving priority to strategic cooperation and trade.
He said, in addition to the collaboration in nuclear energy, new cooperation opportunities would soon appear both in terms of industry and technology. Replying to another question, Yildiz said that Turkey currently negotiated the Samsun-Ceyhan oil pipeline project with Russia.
Pointing to the participation of the two countries' private sectors in the said project, Yildiz said Turkey had previously expressed that it would support any project that would by-pass the Straits.
/
Trend
/