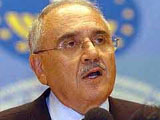 Turkish Defense Minister Vecdi Gonul, who is on a formal visit to Saudi Arabia, on Thursday paid a visit to Ekmeleddin Ihsanoglu, Secretary-General of Organization of Islamic Conference (OIC) headquartered in Jeddah, Anadolu News Agency reported.
At his meeting with Ihsanoglu, Gonul reaffirmed Turkey's support to OIC, officials said.
The meeting between Gonul and Ihsanoglu also discussed regional issues, such as the uprising in Egypt, Tunisia and Libya, as well as Gonul's talks with Saudi Arabian officials.
Referring to Turkish Prime Minister Recep Tayyip Erdogan's recent remarks on his visit to Germany, Gonul said Turkey was against a military intervention in Libya.
For his part, Ihsanoglu voiced support to Turkey's stance and said Libya's people should settle the problem on their own. Ihsanoglu also said that OIC would send experts to an international committee to be established after a UN call to investigate incidents in Libya.
/
Trend
/