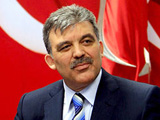 Turkish President Abdullah Gul said Wednesday that he would show solidarity with Egyptian people during his upcoming visit to Egypt where a popular revolt led to ouster of long-time President Hosni Mobarak.
Gul will travel to Egypt on Thursday.
"Egypt is Turkey's closest friend and it is a sister of Turkey. During my brief visit, I will express solidarity with Egyptian people and our will for Egypt to come through this period stronger," Gul told a joint press conference with Montenegro's President Filip Vujanovic in Ankara.
Gul said Egypt, together with the whole region, was going through the most drastic and dramatic period of change in its history.
"We will share our experiences and views in this transition period. It is very important for Egypt to survive this period stronger. It is very important for Egyptian people to gain a new democratic order with the rule of law which they aspire and deserve. I will pay a visit to show that Turkey is with them at a time of change," he said.
/
Trend
/