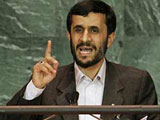 Iranian President Mahmoud Ahmadinejad has warned the United States and its allies against their "military" interference in North Africa and the Middle East, urging them to stop their moves, reported Press TV.
"If you have military interference in North Africa and the Middle East once again, regional nations will stand up and dig graves for your soldiers," IRNA quoted President Ahmadinejad as speaking in Iran's western province of Lorestan on Wednesday.
The Iranian chief executive added that the present time differs from 10 years ago and the time of former US President George W. Bush "that you attacked Iraq and Afghanistan under the pretext of September 11."
He said the US and its "plundering allies" are the "most hated governments among nations" and emphasized that they are hatching plots to prepare ground for their military intervention in certain countries.
President Ahmadinejad warned certain powers, who falsely claim to defend human rights, against their deceitful plots, saying, "No one accepts your claims about supporting nations because you are the main culprits behind the ongoing crimes in the world."
He pointed out that the US leaders currently claim to defend rights of nations and confront dictators, stressing, "All people across the world should know that the dictatorship is supported by the US government."
President Ahmadinejad said new plots by the United States and its allies are aimed at overcoming oil and gas resources in North Africa and certain countries in the Middle East.
He pointed to US bases in European countries and emphasized, "Those who produce, stockpile and use atomic bombs have no right to take stance against the Iranian nation and the country's nuclear technology."
"They produce nuclear weapons and have bases, different bases. They violate international regulations and have set up bases in at least four European countries and stockpile their bombs there," the Iranian president pointed out.
He warned that the Iranian nation would resist against extremism of arrogant powers and added that they have only one option for their survival.
"You should respect rights of nations, accept their independence and abandon your aggression."
/
Trend
/