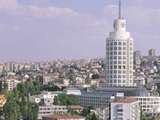 A Turkish ferryboat brought 1,213 people, including 460 Turks, to Turkey from Libya early on Wednesday.
The ferryboat got Turkish citizens and well as foreigners from Ras Lanuf and Benghazi ports, and evacuated 1,213 people, including 460 Turks, from Libya and brought them to the Aegean town of Marmaris.
Around 425 of the foreigners were from Thailand, 143 were from the Philippines, 88 from Pakistan, 78 from Vietnam, six from Bangladesh, four from India, one from Morocco, five from South Africa, one from Finland, one from Italy and one from Syria.
Turkish citizens will be sent to their homelands by buses, whereas foreigners will be hosted at hotels in Marmaris.
"9,500 people have been brought from Libya to the Aegean province of Mugla by planes or ferryboats so far," governor Fatih Sahin told AA correspondent.
Sahin said two ferryboats brought a total of 2,500 people to Marmaris on Tuesday, and 1,550 of them were foreigners.
Ten percent of the total people evacuated from Libya and brought to Mugla consisted of foreigners, the governor said.
"Plunderers who raided our work sites seized our telephones and valuable belongings, and I am happy to be back at home," one of Turkish passengers Behcet Karakadak told reporters at the Marmaris Port.
Another passenger, Hakki Ozdemir said they had been trying to run away from Libya for ten days, and his friends and he shared a loaf of bread as they could not find food for ten days.
Turkish Red Crescent distributed 7,500 food packages, 6,000 blankets and medical and hygienic sets to passengers of the two ferryboats.
According to unconfirmed reports, around 1,000 people have been killed in Libya during protests against Muammar al-Qadhafi's 42-year reign.
/World Bulletin/