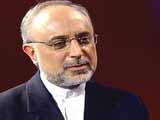 Iranian Foreign Minister Ali Akbar Salehi stresses the importance of observing the rights and commitments of countries "n a balanced way" in accordance with the Nuclear Non-Proliferation Treaty (NPT), Press TV reported with reference to Mehr news agency.
"Iran asserts its rights within the framework of the NPT," Salehi told in a meeting with the Secretary-General of the Conference on Disarmament, Sergei Ordzhonikidze, in the Swiss city of Geneva on Tuesday.
The NPT is a treaty to limit the spread and proliferation of nuclear weapons. The treaty came into force on March 5, 1970, with 189 signatories currently.
Iran has repeatedly announced that as a signatory to the NPT, it should exercise its inalienable rights within the treaty's framework.
The top Iranian diplomat once again emphasized that the country's nuclear activities pursue peaceful purposes and are carried out under the surveillance of the International Atomic Energy Agency (IAEA).
In its latest report, issued by IAEA Director General Yukiya Amano on Friday, the UN nuclear agency once again confirmed that Iran's nuclear program has never been diverted to nuclear weapons production.
Ordzhonikidze, for his part, said the Islamic Republic has had a "positive" performance in nuclear disarmament and praised "very professional and accurate" speech delivered by Salehi at the UN Disarmament Conference in Geneva earlier on the day.
He expressed hope that talks between Iran and the five permanent members of the UN Security Council - Russia, China, Britain, France, the US -- plus Germany (P5+1) would open in the near future.
Representatives from Iran and the P5+1 held their latest round of multifaceted talks in the Turkish city of Istanbul on January 21 and 22.
Addressing the UN Disarmament Conference, Salehi proposed that the use of nuclear weapons be completely banned by an international convention.
"Time is now ripe to completely ban nuclear weapons just like biological and chemical weapons," he said.
The Iranian top diplomat recommended that the UN Disarmament Conference seriously consider on its agenda the formation of a convention with the aim of banning the production, maintenance, and use of nuclear weapons.
Salehi, who arrived in Switzerland on Monday at the head of a high-ranking delegation, wrapped up his official visit and left Geneva for Tehran on Tuesday.
He delivered a speech at the 16th session of the UN Human Rights Council on Monday and at the UN Conference on Disarmament on Tuesday.
He also held meetings with his counterparts from Germany, Russia, Austria, Serbia, Algeria, the Netherlands and Switzerland.
/
Trend
/