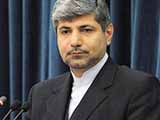 Iran has removed nuclear fuel from the Bushehr nuclear power station because of malfunction of one of the cooling pumps, Iran's Foreign Ministry's spokesman Ramin Mehmanparast said, ISNA reported.
He added Russian experts advised to unload the fuel from the reactor, and Iran has agreed with the requirement for security reasons.
Earlier Tuesday, Russian Foreign Minister Sergey Lavrov at a press conference in Geneva noted, that the problem at the Russian-built nuclear reactor in Bushehr is technological, and will be resolved in two-three months, RIA Novosti reported.
According to him, the Iranians insisted that German equipment, which is located in Bushehr, is partially used, but this equipment requires preventive maintenance.
"This problem will be resolved after two or three months," Lavrov said. "We can not create a minimum risk for the nuclear reactor."
/
Trend
/