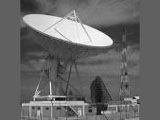 The order to dismantle satellite antennas has not been amended and police is fulfiling this order.
"We urge the public and all government bodies to follow the law on dismantling satellite antennas," Police Force Chief Commander Ismail Ahmadi Mugaddam was quoted as saying by the Iranian news agency ISNA.
In February, Iran repeatedly prevented the broadcast of the Persian BBC. Prior to that, it suspended the broadcast of Voice of America TV and Radio Deutsche Welle. Iran said foreign television channels are trying to destabilize the situation in the country.
The use of satellite antennas in Iran is prohibited by law. However, even official information suggests that more than 40% of households use them. Although the authorities have systematically carried out activities to dismantle antennas, they are usually reinstalled after several days.
/
Trend
/