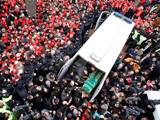 Tens of thousands of mourners chanting "Allahu Akbar" flocked to an Istanbul mosque Tuesday for the funeral of the mentor of political Islam in secular Turkey and its first Islamist prime minister.
Necmettin Erbakan, who led the country for about a year until 1997 when the military forced him to resign, died Sunday of multiple organ failure, aged 84.
Both President Abdullah Gül and Prime Minister Recep Tayyip Erdoğan — who entered politics as disciples of Erbakan but would later revolt against him — were to attend the funeral prayers at the historic Fatih Mosque.
The mourners packed the mosque yard in the early hours of the day and crowds continued to arrive, filling several streets around the building.
Hundreds of police had been deployed and snipers placed on rooftops to watch over the crowds.
"Here is the army! Here is the commander, Mujahedeen Erbakan!" some mourners chanted, using the Arabic word for Muslim holy warriors.
"We came to fulfill our last duty to him," said 19-year-old Büşra Emine Ağaç, one of a group of veiled university students who travelled about 10 hours from the southwestern city of Denizli to bid farewell to their leader.
"After the funeral, we will go back and continue to work in the direction he showed us. The struggle will continue," she said.
Erbakan was to be buried in an Istanbul cemetery later Tuesday.
He died as leader of the small Felicity Party, which failed to enter Parliament in the last elections in 2007, swept by his one-time associates who now lead the governing Justice and Development Party, or AKP.
A former aide to Erbakan had said Monday that the head of Palestinian Islamist movement Hamas, Khaled Meshaal, would attend the funeral, but a Turkish diplomat denied that.
Meshaal "will not come to Turkey," the diplomat said, and he would instead be represented by an associate.
Erbakan, a professor of mechanical engineering, became Turkey's first Islamist prime minister in 1996 in a coalition with a center-right partner after his Welfare Party, or RP, won 21 percent of the vote and became the largest parliamentary group.
But the RP moves to raise the profile of Islam in social life and seek closer ties with Islamic states such as Iran and Libya quickly irked the staunchly secularist and then-omnipotent military.
A harsh army-led secularist campaign forced Erbakan to step down in 1997 in what is widely referred as "a post-modern coup."
The following year, the constitutional court outlawed the RP and banned Erbakan from politics for five years, which eventually led to a split in his movement as moderates, led by Erdoğan, broke ranks with their mentor to form the AKP.
Despite his controversial policies, Erbakan is credited — even by political opponents — for his commitment to democratic elections and keeping his followers away from violence.
Behind his plump and genial exterior, he was a fierce ideologue and tough political survivor who tirelessly spread his message, and held meetings with party associates even in his last days in hospital.
Nicknamed "Hoca" (Teacher), he loathed Turkey's pro-Western tradition, preaching a blend of Islamism and Turkish nationalism.
He called the existing international system a "Zionist order" responsible for worldwide poverty and contested some economic pillars such as the interest rate, which Islam rejects.
/Hurriyet Daily News/