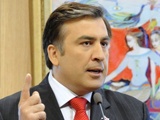 Georgian President Mikheil Saakashvili welcomed the initiative of Catholicos-Patriarch of All-Georgia Ilia II to resume a dialogue with Russia.
The president expressed full readiness to take "concrete steps" in this direction, Presidential Spokesperson Manana Manjgaladze said at a traditional briefing.
"[The] Statement by the Patriarch fully coincides with the nation's desire," she said
Earlier, Ilia II called upon the leaders of Georgia and Russia to engage in a dialogue.
"I appeal to the leaders of both countries and call on them to show wisdom and courage in order to initiate a dialogue at various levels to discuss and resolve the backlog of complex issues," Ilia II said in a recent statement.
/
Trend
/