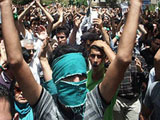 Two Iranian opposition leaders, whose detention triggered a wave of protests, have been transferred to a prison in Tehran, opposition websites reported on Monday.
According to the reports, Mir Hossein Moussavi and Mehdi Karroubi and their wives Zahra Ranhavard and Fatemeh Karroubi, were transferred over the weekend to the Heshmatieh prison in Tehran.
Moussavi and Karroubi were reportedly under house arrest for almost two weeks. Then reports came in that they were moved to an unknown location. There has been no official confirmation yet on the transfers.
The German government on Monday criticized Iran over the arrest of the two opposition politicians, saying the detentions violate fundamental human rights.
"We, and the international community, are convinced that such scare tactics breach fundamental human rights and civil liberties," government spokesman Steffen Seibert said.
The German government called on Tehran to immediately disclose the two men's location and grant them access to legal representation.
Monday's reports on opposition websites said the two were no longer in their homes in Tehran as the lights in their buildings have been switched off.
The Iranian opposition said Monday that its protests would continue until the release of these leaders.
The movement, known as Green Wave, has said it plans to hold protests on Tuesday and again on March 15 if the two leaders are not released.
State prosecutor general Gholam Hossein Mohseni Ejehi on Monday confirmed that meetings and contacts of the two leaders with the outside world have been restricted.
ISNA news agency quoted the prosecutor as saying that "other measures" could be taken if necessary. Mohseni Ejehi did not say where the two were being kept at present.
At least three people were killed and an unknown number of protesters arrested in two demonstrations held earlier this month.
More than 200 legislators, several clerical groups and government supporters have called for the arrest and execution of Moussavi and Karroubi for allegedly undermining the Islamic system and collaborating with foreigners.
But the government and judiciary distanced themselves from the death calls and put the two under house arrest.
Moussavi's website reported that the government has built an "iron wall" around the former prime minister's residence in central Tehran. Witnesses said a large gate had been erected at the entrance of the alleyway leading to his house.
Opposition protests exploded in Iran after the disputed 2009 presidential election that was won by President Mahmoud Ahmadinejad.
/
Trend
/