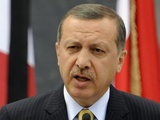 Turkish Prime Minister Recep Tayyip Erdogan said on Saturday that sanctions that would be imposed in Libya would worsen situation of Libyan people.
"We call on international community to approach Libya not with concern of oil but with conscience, laws, and universal humanitarian values," Erdogan said while speaking at a ceremony to lay the foundation of Istanbul Strait Tube Tunnel Passage Project.
Erdogan said, "Turkey sees common history, a brotherly people and human beings when it looks at Libya, not oil reserves, wells and pipelines like some people do."
Erdogan said he clearly stated that Turkey was against any kind of intervention that could damage Libyan people and citizens of a foreign country in Libya.
"Any intervention will worsen the process. It will damage Libyan people not the administration. Libyan people who are face to face with hunger, violence and death will be more hopeless in case of an intervention or sanctions," Erdogan said.
Erdogan urged countries and leaders who take prosperity and democracy for granted to them to give up their double standard stance and to act in a principled way and consistently.
Erdogan said Turkey called on international community to produce remedy to put an end to the sufferings of Libyan people.
/World Bulletin/