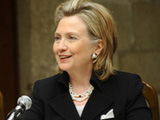 US Secretary of State Hillary Clinton is reportedly scheduled to make a visit to Turkey in the second week of March amid a wave of protests sweeping Middle Eastern countries, most of which are American allies, Today's Zaman reported.
Clinton was supposed to pay a visit to Turkey in early February after her participation in the 47th Munich Security Conference on Feb. 4-6. But she had to postpone her visit due to the increasingly unfolding unrest in Egypt that came after the toppling of Tunisia's president following a popular uprising.
In Munich, Foreign Minister Ahmet Davutoğlu and Clinton had talks with their delegations in a 45-minute meeting on the sidelines of the security conference to discuss turmoil in Egypt and its possible repercussions. Both foreign ministers also reportedly discussed joint cooperation between the US and Turkey in the fight against the outlawed Kurdistan Workers' Party (PKK) and bilateral relations between the two countries. Both the US and Turkish authorities have been in constant contact, seeking ways to deal with unrest in the region that is shaking autocratic leaders.
/
Trend
/