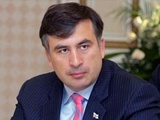 Creating "physical threat" to the 2014 Sochi Winter Olympic Games "is neither in our plans, nor in our capability," President Saakashvili said in an interview with Georgia's Russian-language First Caucasus News Channel on February 24.
Asked to comment on Russian President Dmitri Medvedev's remarks, who pointed the finger at Georgia while warning of security threats to the Sochi Olympics, Saakashvili said that Georgia "poses zero threat" to the Games.
"As far as Russia's political problem is concerned [in respect of Sochi Olympics], it is a huge problem, because just few kilometers from the Olympic site Russia has officially, on the political level legalized ethnic cleansing [in Abkhazia]," he said. "In this sense they have problems, but we have nothing to do with this. We would be happy if we could resolve this problem gradually through joint efforts with Russia."
He said that in 2007 Georgia supported "openly and with huge enthusiasm" Sochi in its bid to host the Olympics in 2014, "because I thought that it would have helped us avoid those negative trends which were already obvious at the time, especially in respect of Abkhazia, i.e. our territory."
Asked whether Russia's renewed attack on Georgia was now possible, Saakashvili said Russia was not "physically" ready for such a move.
"I think it would be self-destructive [for Russia] from the political point of view. But it is my logic. It is hard for me to judge from their [the Russian authorities'] point of view, so we are careful," Saakashvili said.
/Civil.ge/