Looters have attacked Turkish companies in Libya where they have projects worth more than $15 billion.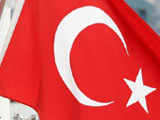 Looters in Libya have attacked Turkish companies with projects that are worth more than $15 billion, Turkey's foreign trade minister said on Monday, as hundreds of Turks were evacuated from the country.
Violent unrest against long-time Libyan leader Muammar Gaddafi has spread to the capital Tripoli, where dozens of people were reported killed overnight. His son has vowed to fight until the "last man standing" after scores of protesters were killed in the east of the country.
"At the raided building sites, there have only been attacks on property. Nothing has been done to Turkish citizens," State Minister Zafer Caglayan said at a meeting with foreign ministry and business officials held to discuss the situation in Libya.
Caglayan said, that 14 construction areas belonged to Turkish companies were looted.
He said companies would be compensated for their damage.
Caglayan said at the closing of "Libya Assessment Meeting" in Ankara that Monday that some 1,500 Turkish citizens were waiting for planes at the airport in Libyan city of Benghazi to return to Turkey.
"Our foremost expectation and demand is that the safety of our citizens will be ensured. Libyan officials have been warned at every level," he added.
Hidir Yentur, a logistics manager with a Turkish construction company in El Beyda, a city in eastern Libya, said workers were forced to move to a safer place after their site was stormed by looters.
"A group attacked our construction site and took computers, but they didn't do anything to us. Our water is running low," Yentur told Reuters by telephone from Libya.
A total of 581 Turkish citizens were evacuated over the weekend from Benghazi in the east of the country, where many Turkish firms were active. Two planes on Saturday brought 293 Turks from Benghazi and another 288 came on Sunday.
Foreign Minister Ahmet Davutoglu said during a visit to Tunis that another four planes and two ships were being sent.
"Our first priority in Libya is to halt the clashes of brothers, to secure safety and dialogue between the sides, and the safety of our citizens," he said.
At the request of the prime minister's office, the Istanbul ferry company IDO said it was sending on Monday two ferries, with a naval frigate for escort, to bring Turks home from Libya. The ferries, with a capacity for 1,200 passengers, would carry food and bedding for 3,000 people among those stranded in Libya.
"Ships to bring back citizens in Libya"
Media reports on Monday said one Turkish Airlines plane had been unable to land amid reports that opposition protesters had taken control of the airport in Benghazi. Those accounts could not be confirmed.
Caglayan said Turkey was in talks with Libya on arranging safe landing for Turkish planes.
Turkish companies, mostly construction firms, have around $15.3 billion worth of projects in Libya, Caglayan said. Some 200 Turkish construction firms are active there, including Tekfen Holding and TAV Construction.
Trade volume between the two countries amounted to around $2.4 billion last year. Libya was part of the Ottoman Empire from the 16th century until it was occupied by Italy in 1912.
"People are not safe in Libya. Opponents and supporters of the government are clashing in the street," Bilge Durukan, a construction company project manager, was quoted as saying by Turkey's state-run Anatolian news agency on his arrival at Istanbul airport.
Major construction company Tekfen Holding, involved in a $550 million project, suspended its operations in Libya and planned to evacuate all its 400 Turkish workers, vice chairman Umit Ozdemir told Reuters.
High-level officials from the Turkish Ministry of Foreign Affairs, Turkish Exporters Assembly (TIM) and Turkey's Foreign Economic Relations Board (DEIK) as well as representatives of Turkish companies operating in Libya were in attendance at the meeting.
/World Bulletin/