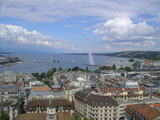 Officials from Tskhinvali and Tbilisi met on February 17 in the village of Ergneti on the breakaway South Ossetia's administrative border to discuss potential exchange of prisoners, officials have said.
Merab Chigoev, deputy envoy of the South Ossetian leader for post-conflict resolution issues, said that the meeting was held in frames of "an extraordinary meeting of Incident Prevention and Response Mechanism".
"Today we have reached a preliminary agreement that a reciprocal hand over [of prisoners] can be carried out. I would not like to go further into details of the matter; I can only say that unlike previous meetings, today a hope emerged that this issue will be resolved in a foreseeable future," Chigoev said in comments posted on the website of the breakaway region's authorities.
Shota Utiashvili, head of the Georgian interior ministry's information and analytical department, confirmed that the meeting took place. "Talks are underway, but it's not yet clear what the outcome will be," he told Civil.ge without going further into details.
Chigoev said that about a month ago Tbilisi and Tskhinvali exchanged lists, involving eight detained persons from each side. Chigoev said that the names in the lists are of those arrested by the both sides after the August war, as the Georgian side refuses to discuss release of those arrested before the war.
In March, 2010, when the Georgian side released four residents of breakaway South Ossetia and two Russian citizens, it was reported that there were no more South Ossetian detainees in Georgia, who were arrested after the August war. But according to the Georgian officials, since then several persons were arrested by Georgia, including some Russian citizens, who are now in the list currently negotiated with Tskhinvali.
/Civil.ge/