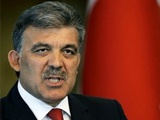 Turkish President Abdullah Gül met with Iranian Supreme Leader Ayatollah Ali Khamenei and Iranian Parliament Speaker Ali Larijani on Tuesday as part of his state visit to Tehran, Anatolia news agency reported.
Foreign Minister Ahmet Davutoğlu and State Minister Cevdet Yılmaz, who is also co-president of the Turkey-Iran Joint Economic Commission, were also in attendance at the closed-door meetings. Gül was in Tehran as the guest of his Iranian counterpart Mahmoud Ahmadinejad as the first Turkish president visiting Iran in nine years.
The Turkish president told a joint press conference Monday with Ahmadinejad that the two countries held detailed discussions on key issues of mutual interest and that important decisions were made, Agence France-Presse reported.
On Monday, Davutoğlu also met his Iranian counterpart Ali Akbar Salehi and Iran's chief nuclear negotiator Saaed Jalili to set the road map on negotiations regarding Iran's nuclear program.
During the meeting, Davutoğlu discussed with Iranian executives the meeting that took place in Istanbul in January between Iran and the P5+1 (five permanent members of the U.N. Security Council plus Germany). Davutoğlu also tried to set a new date and place for negotiations during his talks, according to the Anatolia news agency report.
Last month, Turkey hosted a second round of negotiations between Iran and world powers to peacefully settle the dispute over Tehran's nuclear program, but the meeting ended with the Western nations failing to persuade Iran to dispel their fears of covert weapons activity by allowing increased International Atomic Energy Agency monitoring of its nuclear programs.
With Iran and Turkey determined to boost their political and economic ties, more than 100 Turkish businessmen accompanied the president on his visit to Iran, which began Sunday evening and is scheduled to last until Wednesday. Turkey aims to increase its trade with Iran from $10 billion to $30 billion, Gül said without giving a timeframe.
/Hurriyet Daily News/