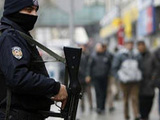 A Kurdish terrorist group has claimed responsibility for Sunday's suicide attack in Istanbul's Taksim Square that injured 32 people, pro-Kurdish Fırat news agency reported Thursday.
The Kurdistan Freedom Falcons, or TAK, an offshoot of the outlawed Kurdistan Workers' Party, or PKK, claimed responsibility for the attack. The PKK, however, quickly condemned the attack, saying, "We clearly condemn the decision-makers of the attack and the attack itself" and called the group to give an end to these kind of attacks.
"Whatever its aim to be, this act is an attempt to nullify the peace efforts of our leadership. We are in deep sorrow due to the consequences of the act and the damage that civilians had," the statement said.
The PKK also said if the acts do not end, the PKK would call TAK to account. The PKK had denied any role in the suicide bombing Monday, when it extended a unilateral cease-fire until parliamentary elections next summer in hopes of opening a dialogue with Turkish leaders.
TAK made a statement on their website and said suicide bomber Vedat Acar, codenamed "Derweş," acted on his own initiative. TAK said Acar was a senior member of the organization who joined in 2005. TAK said it has no involvement in the PKK's cease-fire decision and that it has not declared a cease-fire.
"As long as actions aimed against the Kurdish people and its values continue, TAK will continue with its actions," the group said. The group operates in Turkish cities and has claimed several deadly bombings in past years, including the attack on the Anafartalar Bazaar in Ankara in 2007.
Turkish authorities identified the suicide bomber as 24-year-old Acar earlier this week. Turkish media reported Thursday that Acar, who is from southeastern province of Van, was trained in a PKK camp in the Hakurk area in northern Iraq.
TAK is known to recruit former PKK members as well as Kurdish youth who have migrated to big cities such as Istanbul, authorities say, Associated Press reported.
The foundation statement on TAK's website said it used to fight as part of the PKK, but later broke off because it felt the PKK's resistance methods were weak. TAK still considers convicted leader of the PKK Abdullah Öcalan as its own leader. The PKK, however, does not claim responsibility for TAK's actions and says they have no control over TAK's acts.
There are also claims that TAK is a cover organization for the PKK's violent acts.
PKK said in its latest statement that there was no issue of control within the PKK. "All units within the PKK will abide by the 'non-action' decision."
/Hurriyet Daily News/
Related articles:
Turkish PM condemns bomb attack in Istanbul
Eyewitnesses of Istanbul bomb tell of panic - PHOTOS
Consul general about Azerbaijanis possibly injured in Istanbul blast
PKK denies role in Istanbul bombing, extends cease-fire
Istanbul officials identify Taksim bomber as PKK member