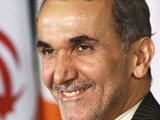 An Iranian official stated today that the activities conducted by the Caspian littoral countries to prevent pollution on the Caspian Sea are unsatisfactory.
"So far, the Caspian states have not carried out any satisfactory work to prevent the pollution of the Caspian Sea," Iranian Deputy Foreign Minister and Presidential Adviser for Caspian Issues Mohammad Mehdi Akhundzadeh told Trend today.
Baku opened a two-day meeting today for the deputy foreign ministers of the five Caspian littoral countries. The meeting aims to coordinate a draft cooperation agreement on Caspian security. In November 2003, the Caspian countries signed the Framework Convention for the Protection of the Marine Environment of the Caspian Sea.
In July 1998, Russia and Kazakhstan signed an agreement on the delimitation of the northern part of the Caspian Sea in order to exercise sovereign rights for subsoil use. On Nov. 29, 2001 and Feb.2 7, 2003, Kazakhstan and Azerbaijan signed an agreement on the delimitation of the Caspian Sea.
Kazakhstan, Azerbaijan and Russia signed an agreement on the delimitation of adjacent sections of the Caspian Sea on May 14, 2003.
Akhundzadeh noted that so far the littoral countries have not paid the necessary attention to preventing sea pollution and only now the first steps are being taken in this direction.
"Two protocols designed to stop the pollution are under discussion," he said. "In the event of a positive result, the necessary facilities will be created to preserve the health of peoples."
A summit for Caspian ecology ministers will be held in late November in Kazakhstan.
/Trend/