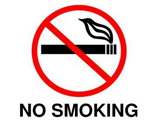 A municipality in Turkish city of Konya has embarked on a program to promote smoking cessation together with non-governmental organization, according to Turkish media. The Head of the municipality Husein Karsavuran said that he wanted to quit smoking for a long time, but has failed. So, he has now decided to finally give up the habit.
Karsavuran says his municipality's residents who participated in the program and quit smoking will be awarded a mobile phone with camera (worth about 100 dollars), or commemorative gold coin.
They will be able to receive the prize if result of the test, which the applicant must undergo 6 months after the rejection of tobacco, is positive.
/Vesti.az/