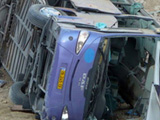 Seven passengers died when a tour bus carrying French tourists got into an accident near Kumluca, a town in Antalya province in southern Turkey, on Thursday morning.
Six of the seven passengers killed in the accident were from France. Twenty more were injured.
A bus belonging to the Sena tour company collided with an automobile in Kumluca near the Şahin Tepesi area, on the road from Antalya to the Santa Claus Museum in Demre, at around 11 a.m. The bus flipped in the accident.
A helicopter was sent to the accident location from Antalya to rescue the injured passengers.
The last deadly accident involving a tour bus happened May 25 when a bus carrying Russian tourists skidded off a highway near Antalya and fell off a bridge, killing 16 people and injuring 25 others.
/Hurriyet Daily News/