Turkish-Azerbaijani relations will further develop, Secretary General of the Turkish Presidential Administration Mustafa Isen said.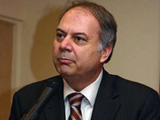 "Azerbaijani National Leader Heydar Aliyev said that Turkey and Azerbaijan are one nation, two states. Relations between the two fraternal nations will continue developing," Isen told Trend over phone.
Secretary General said that the principle of "One nation - two states" must be reflected not just in words, but at the same time, in fact.
"The establishment of the Strategic Cooperation Council between Azerbaijan and Turkey at a high level is one of the important actions taken to strengthen the principle "One nation - two states"," Isen said.
Azerbaijani President Ilham Aliyev and Turkish Prime Minister Recep Tayyip Erdogan signed a joint declaration in Istanbul on September 15 to establish the Strategic Cooperation Council at a high level.
He said that Ankara stood for participation in the summit of Turkish speaking countries and other Turkic countries.
"Several appeals were made for Uzbekistan to attend the summit of heads of Turkish speaking countries both in Nakhchivan and then in Istanbul," he said.
He said that Uzbekistan will be a "part of the Turkic world" in the nearest future.
"The presidential meetings are designed for all leaders of Turkish speaking countries. Any leader can join these meetings any time," he said.
/Trend/