Mineral Research & Exploration (MTA) Directorate General of Turkey has found shale reserve for eight billion tons of oil in central Anatolia.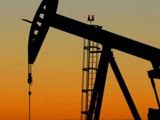 Heating oil shale, which is a sedimentary rock, produces oil and natural gas. MTA found out that the shale in Konya-Eregli and Nigde-Bor basins could produce oil between 2.6 billion-8.3 billion barrels. Accordingly, its value was calculated as 218 billion-687 billion USD.
Shales are considered as a bridge in transfer to hydrogen and renewable energy resources against a possible oil crisis expected in the world in a near future. World's largest oil shale reserves are located in Wyoming, the U.S. which owns two thirds of world reserve. 60 liters of oil can be obtained from one tons of oil shale in U.S. reserves.
As of the foundation of MTA in 1935, 1.64 billion tons of oil shales were found in Beypazari (Ankara), Seyitomer (Kutahya), Hatildag, Himmetoglu, Mengen (Bolu), Ulukisla (Nigde), Bahcecik (Kocaeli), Burhaniye (Balikesir), Beydili (Ankara), Dodurga (Corum) and Celtek (Amasya) in Turkey.
In general of the world, averagely 38 liters of oil can be obtained from a ton of oil shale. After the Konya-Eregli and Nigde-Bor reserves are discovered, Turkey's oil shale reserve increased to 9.64 billion tons from 1.64 billion tons.
/World Bulletin/