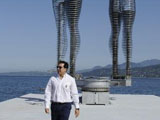 Georgian President Mikhail Saakashvili has unveiled fresh construction plans for a Black Sea resort town that include a 150-meter-tall glass tower decorated with letters from the Georgian alphabet, an aerial tramway, a funicular and an artificial golden beach, report said.
Each standing seven meters tall, the 33 Georgian letters will join one another to form an alphabet tower on the waterfront. As he laid the foundation for the alphabet tower in Batumi late last week, Saakashvili said: "The Georgian alphabet is our DNA, our genetic code. Today, we kick off construction of Batumi's Eiffel Tower and we need to complete it in five months." The Spanish firm CMD Ingenieros, a longtime presidential favorite, will handle the job, news website EurasiaNet.org said.
Though scholars still differ on the exact origin of the Georgian alphabet, most agree that it came into being for the translation of the Christian scripture. Claimed to be the first to convert to Christianity in Eurasia around 330 AD, Georgian clergymen developed a set of characters to translate and disseminate the teachings of Christ, according to a report by the Chinese state agency, Xinhua.
Examples of the earliest Georgian alphabet, known as Asomtavruli or Mrgvlovani, are preserved in monumental inscriptions like those of the Georgian church in Bethlehem near Jerusalem and the church of Bolnisi Sioni near Tbilisi. Both churches were built around the third and fourth centuries AD.
A transitional Georgian alphabet known as Nushhuri appeared in the ninth century, mostly for the use in ecclesiastical works of the time. Elements of the modern-day Georgian alphabet first appeared in the 11th century when it started to be used for non-religious purposes up till the 18th century. At that point, it was replaced by the Khutsuri script, which incorporated the Asomtavruli alphabet into the Nushhuri alphabet.
/Hurriyet Daily News/