Turkish Prime Minister Recep Tayyip Erdogan made two patent applications for the trademark "RTE", his initials.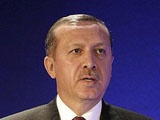 Erdogan's attorney Arzu Akalin made applications to Turkish Patent Institute (TPE) in June, Turkish Industry & Trade Minister Nihat Ergun said on Monday.
One of the applications was for the internet address brand "rte.com.tr", Ergun said.
The other trademark application includes business lines, such as stationery equipments, media products, advertising and business administration, radio & television, communication, and education, he said.
TPE officials accepted Erdogan's application for examination. "RTE" trademark is expected to be registered three months following November 12, the date Erdogan's application to be published in monthly Official Trademark Bulletin, Ergun explained.
Third persons may file opposition in three months time limit following the publication date of the TPE bulletin.
/World Bulletin/