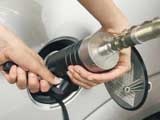 Turkey's gasoline sales to Iran in July plunged to 47.9 million liters, or 9,800 barrels a day, from 187.4 million liters a month earlier after U.S. sanctions against Iran took effect, Turkey's statistics office said on Wednesday.
Sales of 95-octane gasoline in July were valued at $24.4 million, the Ankara-based government statistics office said in answers to questions from Bloomberg. That compares with $121.8 million in June.
The slump in sales coincided with U.S. sanctions against the Persian Gulf nation's nuclear plans. The measures targeted foreign suppliers of gasoline and blocked access to the U.S. financial system for banks doing business in Iran.
On July 26, the European Union banned investment and sales of equipment to Iranian oil and natural-gas industries. The United Nations Security Council imposed a fourth set of sanctions June 9 because of Iran's nuclear program.
Iran depends on imported fuel for as much as 40 percent of its domestic needs.
/Hurriyet Daily News/