Armenian media accuses country's Foreign Ministry of recognizing Azerbaijan's territorial integrity.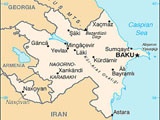 Armenian Ministry of Foreign Affairs shows Nagorno-Karabakh and seven occupied regions as a territory of Azerbaijan on its official website.
This fact caused serious protest in Armenia, ArmToday reports.
"It is not only offense that Nagorno-Karabakh Republic was unmapped by the Ministry of Foreign Affairs of Armenia, but it is also real attitude by the Armenia's foreign policy office to the fact of "NKR" independence", says ArmToday, Armenia-based news agency.
/APA/