Death toll rose to 11 in the landslide which happened in the northern Rize province of Turkey on Friday.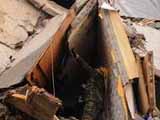 A landslide occurred in Gundogdu hamlet of Rize due to torrential rains Thursday evening, Anadolu news agency said.
Search and rescue teams pulled three more bodies from the debris of two collapsed houses in Gundogdu hamlet of Rize.
Earlier, bodies of Osman Kutay and Salim Bilgin were found in Hamidiye district, and Ali Efil's body was recovered in Daginiksu district.
Search and rescue teams continue their efforts.
Rize Mayor Halil Bakirci told reporters that a school and several houses were inundated after Degirmendere river overflowed last night.
Noting that this had been the biggest disaster in Rize in the history of Republic, Bakirci said that water and electricity were cut in Gundogdu hamlet.
Meanwhile, State Minister Faruk Nafiz Ozak visited Gundogdu, and said that more than one landslides occurred from western to eastern part of the hamlet.
Ozak added that several people were still missing, and efforts were under way to find those people.
He said that Prime Minister Recep Tayyip Erdogan will also visit the region.
Deputy Prime Minister Cemil Cicek is also on his way to Rize to examine the region.
/World Bulletin/