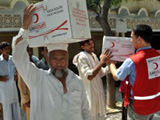 18 million Turkish liras (TL) has been collected in bank accounts within the scope of an aid campaign aiming at helping flood-hit Pakistan, doubling the previous number, Prime Ministry said on Wednesday.
A statement by Natural Disaster and Emergency Management Directorate of Prime Ministry said that as of Wednesday, 15.8 million TL, 474,491 U.S. dollars and 667,547 euros have been collected in three separate bank accounts opened within the scope of a circular signed by the Turkish prime minister.
Floods, caused by Monsoon rains, have killed thousands of people and left millions homeless in Pakistan in the last couple of weeks.
After the disaster, Turkey sent 8 cargo planes full of nearly 244 tons of medicine, food, clothing and tents to Pakistan, and most recently, two mobile hospitals and 40 medical personnel to be deployed in the country's Sind and Belucistan states.
Turkish government, which donated $10 million to Pakistan, also recently launched an aid campaign.
"Gul talks to Zardari by phone"
Turkish President Abdullah Gul spoke with Pakistani President Asif Ali Zardari by phone.
A statement by Presidential Press Center said on Wednesday that Gul informed Zardari about Turkey's assistance to flood-hit Pakistan and asked Zardari what could be done more for Pakistan during conversation.
Zardari said he appreciated Turkish people's and state's assistance and Pakistan would be pleased with continuation of supports.
So far, Turkey has sent and $10 million financial aid and 244 tons of relief support that included vaccines, medicine, medical stuff to Pakistan.
Turkey has sent as well a 42-member medical team, two fully equipped mobile hospitals, an ambulance, and a 4x4 truck for medical rescue efforts.
Turkey's Red Crescent Society was also poised to build in to Nowshare five hundred Mevlana houses -- larger tents which provide long-term protection for victims.
/World Bulletin/