Iran officially opens the production lines of two domestically-built high-speed vessels, one capable of launching missiles.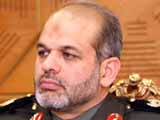 Iran has successfully test-fired a new version of the domestically-built Fateh missile, Iranian Defense Minister Brigadier General Ahmad Vahidi says.
Addressing a group of reporters on Wednesday, General Vahidi announced that the new generation of Fateh-110 is a medium-range ballistic missile with improved precision in targeting, completely engineered by Iranian experts.
As part of the Islamic Republic's general plan to bolster its military might, the top commander stated that the third-generation Fateh has a quicker launch time.
Fateh-110 (Conqueror) missile is nine meters (29 feet) long and weighs 3,500 kilograms (7,700 pounds).
The new version of Fatah missile is a single stage solid propellant.
Iran has unveiled a series of domestically-produced weaponry over the past few weeks, which include the short range missile Qiam (Rising) and the Karrar -- Iran's first Unmanned Aerial Vehicle (UAV).
Tehran says the weapons are part of its doctrine of defense and are aimed at strengthening security in the region.
/Press TV/