Another armed incident have occured at a military unit in Armenia.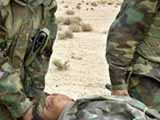 On August 17, junior sergeant Harutyun Vardanyan, 26, fired twice at contract soldier Arsen Chobanyan, Armenian Defense Ministry press office said. Chobanyan died at the scene.
Criminal proceedings were instituted. An investigation is underway to clarify the details.  Vardanyan was detained on Aug. 21.
Armed conflicts have become frequent in the Armenian army as of late.
On July 27, Lieutenant Artak Nazaryan (1979) was killed by a bullet at a military unit in the Tavush region of Armenia. Five servicemen and an officer were killed in a seperate armed incident on July 28.
/News.am/