Iranian President Mahmoud Ahmadinejad has appointed his special envoys for Middle East, Asia, Afghanistan and Caspian Sea affairs.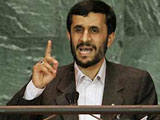 In separate decrees issued on Sunday, Esfandiyar Rahim-Mashaei was appointed as the presidential envoy for Middle East and Hamid Baqaei for Asian affairs. Mohammad Mehdi Akhoundzadeh was assigned as the special envoy for Caspian Sea issues and Abolfazl Zohrehvand is Iran's representative for Afghanistan affairs, Mehr News Agency reported.
In a letter addressed to Mashaei, the president said that hegemonic powers seek domination over the sensitive Middle East region via propaganda and military tactics.
"Extensive support for the Zionist regime is in line with this policy. Intelligent moves should be adopted to maintain regional unity and thwart the ill intentions of hostile powers," the letter reads.
Apart from being the president's chief of staff, Mashaei holds a number of key positions in the sitting cabinet. He is the vice president in the High Council of Iranian Affairs Abroad.
In a letter to former director of Iran Cultural Heritage and Tourism Organization, Hamid Baqaei, Ahmadinejad noted, "Today, it is more necessary than ever to expand cooperation between Iran and Asian countries to curb the threats stemming from any dependency on western countries."
"The Iranian government's strategy for bolstering ties with Caspian Sea littoral states is based on mutual respect and interests," the Iranian president said in the letter to Akhoundzadeh.
Ahmadinejad, in his letter to Zohrehvand, said that taking essential measures to facilitate closer relations with Afghanistan consistent with Iran's national interests is of crucial importance.
"Foreign powers are involved in extensive political-military provocations under the pretext of defending the country's (Afghanistan) security," the president noted.
/Press TV/