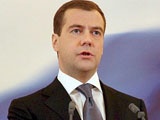 Only the OSCE Minsk Group has proven effective in resolving the Nagorno-Karabakh conflict, Russian President Dmitry Medvedev said today at a joint press conference with his Armenian counterpart, the Vesti television channel reported.
"Other potential participants in these talks are not fully immersed in the details and this complicates their role as a possible mediator," Medvedev said. "Efficiency is possible only in the Minsk Group format, or with Russian mediation efforts."
He added that the mediator in such a conflict must be deemed appropriate by all parties. Russia will accept any party as a mediator that these parties choose, Medvedev said.
"If the sides agree to involve other participants, such as the Minsk Group, then we will naturally accept their decision," he said.
Armenian President Serzh Sargsyan also stated that the Minsk Group is acceptable in the resolution of the Nagorno-Karabakh conflict.
"Concrete results can be achieved only within the OSCE Minsk Group," he said.
"Today there is no peace or war in the region," Sargsyan added. "It is too bad that there is no peace, but it is also good that there is no war. The Minsk Group has great merits in this."
/Trend/