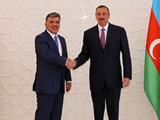 Turkish President Abdullah Gul said Monday, as two states of one single nation, Turkey and Azerbaijan needed to act in solidarity, cooperation and brotherhood. Speaking at a joint press conference with his Azerbaijani counterpart Ilham Aliyev following a meeting between the delegations of Turkey and Azerbaijan, President Gul said that he was thankful to brotherly Azerbaijan for the hospitality displayed to him and the members of the Turkish delegation.
We feel at home. Whenever we come to Azerbaijan, we experience this feeling and are pleased to note the development of this country, Gul stressed. We are one nation with separate states. We come together frequently based on such an understanding. We will continue our solidarity and cooperation, Gul underlined.
Our bilateral relations continue to develop, including in the political, security, economic and cultural fields. We discussed today ways to promote our relations. We are encouraging our companies to increase mutual investments. We are pleased with the investments of Azeri companies in Turkey. We are proud of Turkish companies doing business in Azerbaijan, Gul said.
Relations in the political sphere are crucial. The Strategic Partnership and Mutual Assistance Agreement signed on Monday are a clear proof of the importance of political relations, Gul said.
Karabakh issue
We discussed today what must be done to make Caucasia a region of stability and security, Gul said.
"We talked on the solution of the Upper Karabakh problem and the end of occupation in Azerbaijani territory. Millions of immigrants live in difficult conditions. For the past 18 years, the world has not displayed the essential attention to the region," he said.
We will continue to hold consultations on the region. It is not right to leave aside frozen issue. Frozen matters may one day become greater problems, he also added.
International organizations, including the United Nations and the Organization of the Islamic Conference (OIC), have made calls to find a solution in this region, Gul said.
Turkey will continue to make efforts so that the issue of occupied Azeri territory gets solved. I want all of my Azeri brothers and sisters to know that Turkey is and will always be on the side of Azerbaijan, Gul also said.
/World Bulletin/