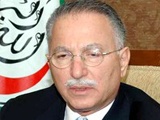 Secretary General of the Organization of the Islamic Conference (OIC) has expressed support for Tehran's nuclear program, lauding Iran's strategic role in the region. Stressing the importance of Iran's position as a regional power, Ekmeleddin Ihsanoglu said that "Iran is a very important and influential country in the Muslim world and has a strategic role in the Organization of the Islamic Conference."
According to IRNA, Ihsanoglu made the remarks on Sunday in a meeting with Iran's new envoy to the organization, Hamidreza Dehqani. During the meeting, Dehqani presented his credentials to the secretary general and emphasized on the OIC's important role in Iran's foreign policy.
The OIC had earlier voiced support for the Tehran declaration at the end of its 37th ministerial meeting in the Tajik capital, Dushanbe, in May.
The foreign ministers of Iran, Turkey, and Brazil signed a declaration in Tehran on May 17, according to which Iran would ship 1200 kilograms of its low-enriched uranium to Turkey to be exchanged for 120 kilograms of 20 percent enriched nuclear fuel rods to power the Tehran research reactor, which produces radioisotopes for cancer treatment.
The Organization of the Islamic Conference is an international organization with a permanent delegation to the United Nations which groups 57 member states, from the Middle East, Africa, Central Asia, Caucasus, Balkans, Southeast Asia, South Asia and South America.
/Press TV/