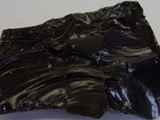 Archeologists have found a piece of obsidian in Turkey's northern Samsun Province, which they say might have been used as a scalpel for ancient surgeries, Press TV reported. Dating back to 4,000 years ago, the volcanic glass was discovered during excavations in the ruins of the Ikiztepe village in Samsun's Bafra district.
"During this year's excavations, which started July 15, we discovered a piece of obsidian that was used as a scalpel in surgeries," head of the archeology team Onder Bilgi told Anatolia News Agency.
"Obsidian beds are generally situated in the Central Anatolian region of Cappadocia," he explained. "We think obsidian was brought to this region through trade."
"As this stone is very sharp and hygienic, it was [likely] used as a scalpel in brain surgeries," Bilgi said.
Archeologists also realized that there was continuous settlement in the region between 4,000 and 1,700 BCE. The team found weapons, tools, ovens and ornaments during the excavations, which show that the inhabitants of the region played an important role in the development of mining in Anatolia. Some of the excavated items have been displayed at the Samsun Archaeology Museum.
/Trend/