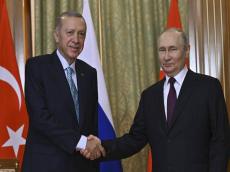 The governors of the central banks of Russia and Turkey, Elvira Nabiullina and Hafize Gaye Erkan, will meet during the talks between the leaders of the two countries in Sochi, Azernews reports, citing Interfax.
"The central bank heads are also here today, they will have a separate meeting," Turkish President Recep Tayyip Erdogan said during talks with Russian President Vladimir Putin.
Erdogan said the meeting between the heads of the central banks would be an important step in the development of trade between Turkey and Russia in national currencies.