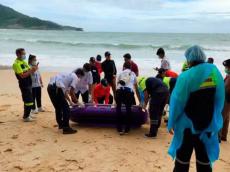 The parents of the 18-year-old Kazakhstani died in Thailand have identified his body, Aibek Smadiyarov, official spokesperson of the Foreign Ministry of Kazakhstan, said, Azernews reports, citing Kazinform.
«The Kazakhstani's parents have identified their son and his body will be transported to Kazakhstan soon,» said Smadiyarov.
As it was revealed, the deceased was a blogger and travelled around the world since the age of 15. The 18-year-old had been in Thailand for several months, where he worked.
The spokesperson added that on September 1 the Kazakh Consulate in Thailand received the information that a young man drowned on the shores of Phuket and he might be a Kazakhstani national. Following two days of rescue works the body of a man, born in 2005, was recovered from the water.