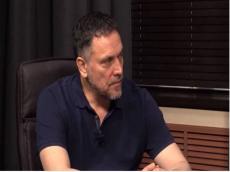 France wants to distract Turkiye's attention from Libya, Africa and the Mediterranean, acting as the patron of Armenians in the South Caucasus.
According to Azernews, a well-known Russian political scientist, TV presenter and public figure Maxim Shevchenko wrote about this in his Telegram channel.
In his opinion, the South Caucasus is a very important frontier for the EU and France as its leader.
"This is both control over the main transport corridor China - Central Asia - Europe and the "rear of Turkiye", which is the main problem of Europe in the Mediterranean and the Middle East, and creating problems for Turkiye and Russia in order to "force them to peace," Shevchenko wrote.
According to him, France's goal is to consolidate in the region and draw Turkish attention away from Libya, Africa and the Mediterranean.
"This can be done by acting as the patron of the Armenians and getting into the region with your "peacekeeping contingents" and "negotiation platforms"," the political analyst added.