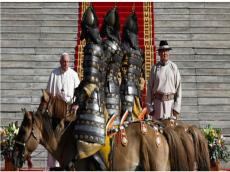 Pope Francis called Mongolia a "symbol of religious freedom" in his first speech in the Asian country sandwiched between China and Russia and underlined how Mongolia's democratic government is in a unique position to play "an important role on behalf of world peace."
In an address to government authorities in Mongolia's State Palace in Ulaanbaatar on Sept. 2, the pope asked that heaven may grant the "earth devastated by countless conflicts" a renewal and respect for international laws, Azernews reports, citing foreign media.
"May the dark clouds of war be dispelled, swept away by the firm desire for a universal fraternity wherein tensions are resolved through encounter and dialogue, and the fundamental rights of all people are guaranteed," the pope said in the speech to Mongolia's democratic leaders and diplomatic corps.
Speaking 200 miles from Mongolia's border with Russia, the pope urged: "Together let us strive to build a future of peace."
The Mongolian Honor Guard stood watch in front of the State Palace as Pope Francis arrived in the capital city's Sukhbaatar Square on Saturday morning. The square is built on the spot where Damdin Sükhbaatar, a Mongolian revolutionary hero, declared Mongolia's independence from China in 1921.
Catholic pilgrims from Hong Kong and mainland China were among the small crowd of a few hundred people who welcomed the pope to the world's most sparsely populated sovereign country. Some of the visiting Catholics from China wore masks and sunglasses to shield their identities, a testament to the stark difference in religious freedom in the country on the other side of Mongolia's southern border.
Other Mongolian passersby stopped to see the pope, including Tuvshin, 38, a Christian from Ulaanbaatar.
Tuvshin told CNA that he believes Mongolia is in "a tough neighborhood between Russia and China."
"So I think he [Pope Francis] has much bigger reasons to make this pilgrimage to Mongolia," he said.
Mongolia has strong ties with its geographic neighbors China and Russia as well as an important diplomatic relationship with the United States, which Mongolia calls its "third neighbor."
"Mongolia today, with its broad network of diplomatic relations … plays a significant role in the heart of the great Asian continent and on the international scene," the pope said.
The Vatican's diplomatic contacts with Mongolia date back nearly 800 years.
Pope Francis recalled how Friar John of Pian del Carpine visited the third Mongol emperor, Guyug, in 1246 as an envoy of the pope and presented to the Grand Khan an official missive from Pope Innocent IV.
The letter in response bearing the seal of the Grand Khan in traditional Mongol letters can be found in the Vatican Library today. Pope Francis presented a copy of this historic document as a gift to Mongolia's leaders as a "sign of an ancient friendship that is growing and being renewed."
Today Mongolia is home to about 1,450 Catholics, far fewer than 1% of the country's 3.3. million people.
"I am pleased that this [Catholic] community, however small and discreet, shares with enthusiasm and commitment in the country's process of growth by spreading the culture of solidarity, universal respect, and interreligious dialogue, and by working for justice, peace, and social harmony," Pope Francis said.
The pope also spoke about the positive contributions of other religious traditions in Mongolia, which is a Buddhist-majority country.
"The holistic vision of the Mongolian shamanic tradition, combined with the respect for all living beings inherited from Buddhist philosophy, can contribute significantly to the urgent and no longer deferrable efforts to protect and preserve planet Earth," Pope Francis said.
Pope Francis addressed about 700 people in the State Palace's Ikh Mongol Hall while sitting beside Mongolian President Ukhnaagiin Khürelsükh. The pope applauded Mongolia's efforts to promote human rights, abolishment of the death penalty, and "determination to stop nuclear proliferation" as a nuclear weapons-free country.
The pope also praised Mongolia's traditional herding and farming practices for respecting "the delicate balances of the ecosystem," adding that they provide an example to those who "reject the pursuit of myopic particular interests and wish instead to pass on to future generations lands that remain welcoming and fruitful."
After the speech, Pope Francis met privately with Mongolian Prime Minister Luvsannamsrai Oyun-Erdene inside the State Palace.
"I am certain that Mongolian Catholics will continue to offer readily their proper contribution to the building of a prosperous and secure society, in dialogue and cooperation with all others who dwell in this great land kissed by the sky," Pope Francis said.