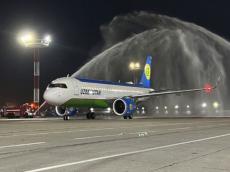 Uzbekistan Airways has received the next A320neo aircraft for its fleet at Tashkent International Airport, Azernews reports, citing Kun.uz news agency.
The medium-haul airliner was purchased from China Aircraft Leasing Group Holdings Limited (CALC) on a long-term lease basis. Airbus A320neo with 168 seats arrived from Kuala Lumpur to Tashkent in the traditional livery of Uzbekistan Airways.
The aircraft is the beginning of a long-term cooperation between the national air carrier and the leasing company CALC. The airline plans to use the new aircraft in its flights from Tashkent city and republic regions.
"This type of aircraft is one of the most popular and best among mid-range liners and offers the highest level of safety and economy. Compared to the previous generation of airliners, the level of carbon dioxide emissions has been reduced by 50%, making it the most environmentally friendly among the aircraft's competitors," the report reads.
"With our global presence and large fleet of aircraft, we see new opportunities to continue our growth path in the coming years as an active aerospace supplier in the region," Mike Poon, CEO of CALC, said.
"Today, the airline is successfully using 19 aircraft belonging to the Airbus A320neo family, and in the near future we plan to fill the fleet with two more airliners of this type. During 2023, the fleet will be expanded with five Airbus A320neo and two LET L-410 aircraft," Shukhrat Khudaykulov, chairman of Uzbekistan Airways JSC, said.
For reference, China Aircraft Leasing Group Holdings Limited includes traditional functions such as aircraft operating leasing, purchase and leaseback, and structural financing, as well as value-added services such as fleet planning, renewal, aircraft dismantling and spare parts sales.
It should be recalled that the first A320neo aircraft was delivered in the spring of 2019. During 2022, the company received five A320neo aircraft.