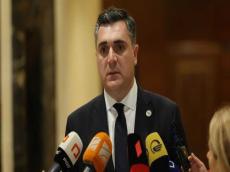 Georgian Foreign Minister Ilia Darchiashvili on Saturday highlighted the importance of Prime Minister Irakli Garibashvili's participation in the inauguration ceremony of Turkish President Recep Tayyip Erdo?an, together with "many delegations" from around the world, at the latter's invitation, Azernews repors, citing Agenda.GE.
Darchiashvili noted Georgia's neighbour and "strategic partner" country, Turkey "has been an important player" in the Black Sea region and emphasised the political cooperation between Georgia and Turkey would bring "strong impulses" for the countries to "jointly strengthen" the security in the region.
Turkey is our very important strategic partner" with very close political relations with Georgia, "President [Erdo?an] has a special attitude towards our country [Georgia]", the FM said, stressing the Georgian PM was in "very close coordination" with the Turkish President to further strengthen the relations between the two states.
Darchiashvili added the Turkish President, in his new term, would put forth more effort in ensuring closer and stronger relations with Georgia, including economic cooperation, the Government Administration said.
The Georgian delegation, led by Garibashvili, attended the inaugural ceremony on Saturday, as well as an official dinner at the Cankaya Presidential Palace hosted by the Turkish President.
With 99.43 percent of the vote counted by Turkey's Supreme Election Council, incumbent Turkish President Erdo?an won the presidential runoff election last week, receiving 52.14 percent of the vote, against his opponent Kemal K?l?çdaro?lu's 47.86 percent.