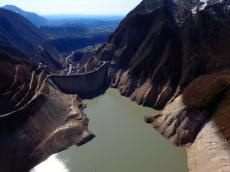 Georgia's digital technology company UGT and Austria's largest electricity provider Verbund have teamed up to implement digital management at the Enguri hydropower plant, the largest electricity-producing infrastructure in Georgia, the Ministry of Economy announced on Tuesday.
A delegation from the Austrian company met the Georgian Deputy Economy Minister Romeo Mikautadze to discuss the project, which is currently in the first phase of its implementation. The stage involves an in-depth analysis and "preparation of technical tasks" for the next phase.
Mikautadze said transition of Enguri HPP to digital management was "essential" for ensuring a "more effective, safe, operative and sustainable operation".
Besides, in the case of hydroelectric plants in Georgia, this will be a precedent for the introduction of digital management", he said.