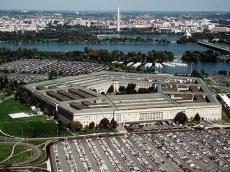 The Pentagon said Thursday that a Chinese spy balloon is currently over the continental United States, but military commanders have recommended against shooting it down.
"The US government, to include NORAD, continues to track and monitor it closely. The balloon is currently traveling at an altitude well above commercial air traffic and does not present a military or physical threat to people on the ground," Pentagon Press Secretary Brig. Gen. Pat Ryder said.
Ryder said it was not the first time such balloon activity had been observed. But the US government acted immediately to protect against the collection of sensitive information, Ryder said on Thursday.
Speaking to reporters on condition of anonymity, a senior US defense official revealed that military commanders and Secretary of Defense Lloyd Austin said shooting down the balloon should be ruled out "due to the risk to safety and security of people on the ground from the possible debris field."
The official added: "We assess that this balloon has limited additive value from an intelligence collection perspective."
The balloon was monitored while over Montana, home to one of the Air Force bases operating the Minuteman III intercontinental ballistic missile (ICBM).
The official said US fighter jets were deployed to examine the balloon earlier this week, noting that it was not threatening commercial aviation.
The official said this had happened several times over the last few years, including during the Trump administration. But the difference with this balloon is the altitude and the period of time it has lingered in the US.