A preliminary court hearing on the appeal of Azerbaijan's former economic development minister Farhad Aliyev will be held in the Baku Appellate Court.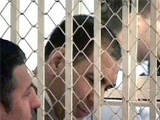 The due announcement was made by a source from the Appellate Court.
A source from the court noted, that the appeal of the imprisoned former minister will be considered in the Appellate Court to be chaired by judge Mirpasha Guseynov on March 18.
It should be reminded that former minister Farhad Aliyev is sentenced for 10 years with property confiscation and deprived of the right to occupy leading positions within 5 years following the release. His brother Rafiq Aliyev was also sentenced with the same provisions for 9 years.
/Day.Az/