The Azerbaijani delegation plans to submit a draft resolution on rights of people missing in the result of armed conflicts for consideration by members of the UN Human Rights Council on March 28.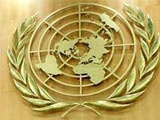 The due announcement was made by Azerbaijan's permanent representative under the UN in Geneva, ambassador Elchin Amirbekov, Day.Az reports.
As is reported, the project will be submitted in the framework of the seventh session of the UN Human Rights Council, which started operation in Geneva.
It should be noted that the session opening ceremony was attended by UN Secretary General Pan Gi Mun, UN Senior Commissioner for Human Rights Louise Arbur, as well as representatives of Council's member-states.
/Day.Az/